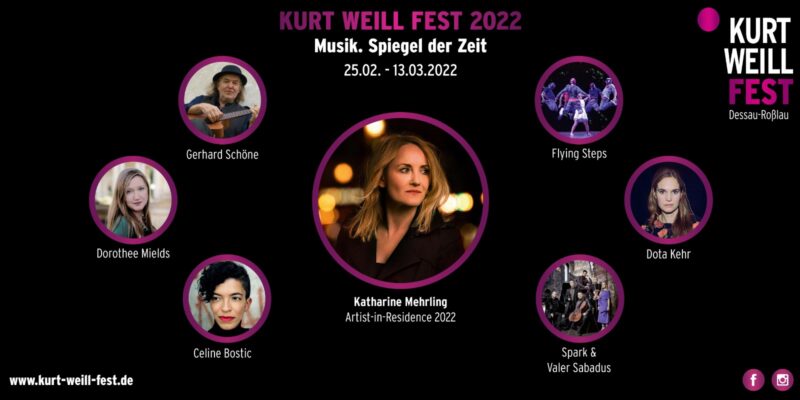 This year's Kurt Weill Festival 2022 will again take place as usual from 25 February to 13 March 2022.
The programme includes more than 30 concerts and events in well-known venues such as the Anhaltisches Theater Dessau, the Bauhaus Dessau, the Johanniskirche in Dessau, the Kornhaus, the Golfpark event centre and the Steintor Varité in Halle (Saale).
Music. Mirror of the times – under this motto, artists such as the Flying Steps will come to Dessau. Frank Dupree, Dota Kehr, Dagmar Manzel, Gerhard Schöne, the Anhaltische Philharmonie, the lautten compagney Berlin and many more will enrich the programme for the 30th anniversary of the Kurt Weill Festival.
From chanson to jazz to classical music and singer-songwriter, from early baroque lute sounds to Bach meets breakdance – this Kurt Weill Festival takes up the moods of the times, has something for every taste and thus lives up to the motto: "Music. Mirror of the times".
The incomparable Katharine Mehrling is Artist-in-Residence 2022. Mehrling – described by the cultural magazine AnDante as "one of the most exciting jazz voices of our time" and no stranger to long-time visitors to the Kurt Weill Festival – will accompany the 2022 season.
The complete programme for the Kurt Weill Festival 2022 is available at www.kurt-weill-fest.de.
Advance ticket sales for all events start on Tuesday, 25.01.2022. Tickets can be ordered conveniently online via the Kurt Weill Fest website.
In addition, the Kurt Weill Festival team can be reached by telephone for questions and ticket bookings from Monday to Thursday from 09.00 – 18.00 on 0340/ 61 19 07.
Tickets can also be purchased at the Tourist Information Dessau and at the box office of the Anhaltisches Theater.
The 2-G-Plus rule applies to visits to all events within the framework of the Kurt Weill Festival. Up-to-date information on the Saxony-Anhalt regulations can be found on the website.
Source: Kurt Weill Festival